Ageing Studio (2010) Dossier
The Kainuu Regional Experiment
Currently in Finland there is considerable desire for reform at all levels of the welfare system, from the highest levels of government to the most local corners of the care network. There are many systemic changes now in various stages of design and implementation, from legislative actions to municipal pilot programmes to local initiatives.
Such reforms are relevant to this studio because they represent the most meaningful attempts at producing the kind of results necessary for the improved welfare of the elderly population in Finland.
Municipalities are the main organisational node for the provision of welfare services in Finland. The municipalities are responsible for the design, provision, and oversight of all aspects of health and social care services.
Out of Finland's 348 municipalities, 248 had populations of less than 10,000 in 2008 (StatsFi). In order to counter the problems of scale inherent in providing complex welfare services to such small, decentralized populations, many municipalities may work in collaboration with other munici- palities for the deliver of services, while others purchase necessary services directly from another municipality, private provider, or public organization.
"There is a wide variety of cooperation between municipalities in both the provision of basic services and regional development. Inter-munic- ipal cooperation is often the most appropriate and economically sound approach for carrying out municipal tasks. The aim is to achieve eco- nomic and above all functional benefits so that universal access to high-quality services can be secured. At the moment, there are 228 regional joint municipal authorities producing services for more than one municipality. Health care and education are by far the most common basic services provided by these organs, even though there is also regional coop- eration between municipalities in other basic services." (OECD PUBLIC MANAGEMENT REVIEW, FINLAND—64)
The demand for municipalities to find joint solutions to welfare service provision problems will increase dramatically in the coming years. The shift in Finland's dependency ratio, in conjunction with internal migration drains from certain areas of the country, will leave some municipalities insufficiently prepared to provide adequate welfare services.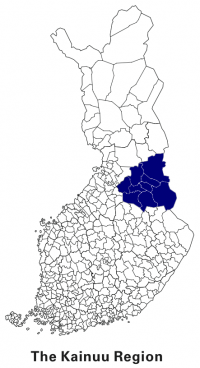 The region of Kainuu faces a particularly rapid ageing of its population, reporting a projected 6% population decrease by 2030 (Statistics Finland Population Project 2009-2060). As a result, the employment outlook in Kainuu is dismal, and core public services are under threat.
Because it falls within the 20,000 population figure, which the government considers ideal for effective welfare service delivery, Kainuu is currently acting as a bellwether for the other municipalities with regard to the coming service delivery problems. In response to this critical situation, the region of Kainuu, with the aid of the national government, has opted to try a new centralized regional government and service structure for two terms.
"The experiment increases regional authority and cooperation between municipalities and other actors...The highest decision-making of the region has been centralized into one organ, the Joint Authority of the Kainuu Region, consisting of fifty-nine members. It was elected through a direct public election process. A centralized arrangement of basic public services enables securing the service quality, availability and economy in Kainuu in the long term, despite the threatening population forecasts. At the same time, the citizens living in the eight Kainuu municipalities will have equal opportunity to receive basic public services." (Kainuu Region Driving Development)
Welfare services and funding are arranged at the regional level in an attempt to improve quality, availability, and cost-effectiveness. This restructuring of government at the regional level will have significant effects on the way welfare services are delivered:
"The social and healthcare services have been divided into three lev- els based on the customer's service needs: services which the residents of Kainuu need almost daily are offered as local services; these include home care services...Services that are needed less often are provided on a regional scale...Services requiring special expertise that are needed rarely are offered as centralized regional services. The customers can freely, regardless of their home town, select any treatment point." (Kainuu Region Driving Development)
Although the final evaluations of the experiment will not be available until after its conclusion, initial results suggest that the necessary structures are in place and operating. The initial restructuring has yielded meaningful changes to the service system in the form of cost savings and expenditure cuts. Understandings have been forged between different municipalities. Still, these changes have been met with resistance by some actors entrenched within the current hierarchical system. Complete evaluations will be closely watched as the Kainuu experiment draws to a close. (OECD PUBLIC MANAGEMENT REVIEW, FINLAND 55-56)
Source: HDL Challenge Briefing on Ageing 1.0